BSC 4933 034 + 036 | Parasitology + Parasitology Lab, Fall 2011 & 2012
Course Overview. A traditional parasitology course emphasizes the major parasites of humans and domestic animals. However, parasitic taxa span the plant and animal kingdoms, so what we will emphasize is a comparative survey to the phenomenon of parasitism.

With this in mind, our course will explore, without limitations, the broad diversity of parasitic lifestyles found in nature?mixing research from gall wasps, mistletoe, malaria, cuckoos, tapeworms, ticks?while integrating key principles of ecology and evolution. This integration is necessary to explain the abundance, distribution and diversity of parasites.



Lab Overview. The purpose of this lab is to become familiar with common parasites of humans and wildlife and their life cycles. The majority of exercises will involve microscope work; however, you will also learn basic dissection techniques to extract parasites from animals, and other common lab skills used in parasitology.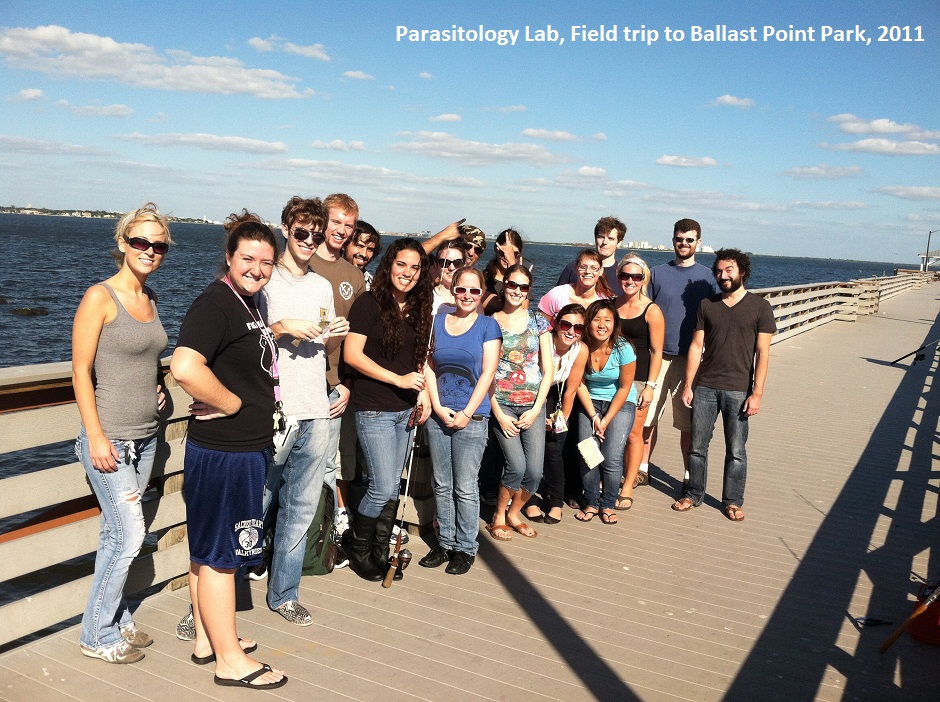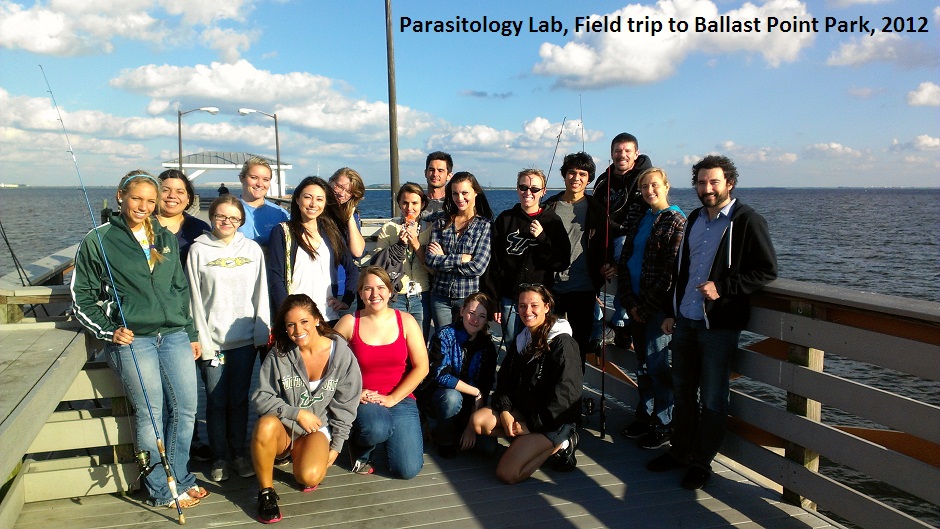 BSC 4933 049 | Medical and Applied Entomology, Spring 2012 & 2013
Course Overview. Medical entomology is the study of insects and arthropods that impact the health of humans (and their domesticated animals), and applied entomology is the study of insects that impact agriculture, forestry, and stored products.

This course will begin with a brief overview of general entomology, cover the basic biology of medically important arthropods and the pathogens/parasites they transmit (with emphasis on the ecology of arthropod-borne diseases and principles of their control), then cover insect pests, animal pests, natural enemies, beneficial insects, beneficial animals, agricultural chemicals and more.

Among the diseases to be covered: dengue fever, malaria, yellow fever, West Nile virus, Lyme disease, and river blindness. Among the pests to be covered: mosquitoes, ticks, aphids, mites, bark beetles, and weevils.



BSC 2011 | BIO II: Biological Diversity, Spring 2011
Course Overview. This course is designed to introduce you to the diversity of life. During your first semester of general biology (BSC 2010) you were introduced to the chemistry of life, the cell, and genetics. This semester we explore the tremendous biodiversity that results from the basic building blocks described in BSC 2010. We begin with a review of evolutionary theory and then conduct an overview of the major groups of living organisms. We end with an overview of the ecology of organisms and how individuals and populations interact with one another and their environment.

Course Objectives. You should have a better understanding of several major concepts by the end of the semester:

Mechanisms of evolution and how evolutionary relationships are inferred
Development of biological diversity, and relationships among major taxa
Basic aspects of form and function for representative members of the major taxa
General interactions between organisms and the environment populations grow and interact with one another