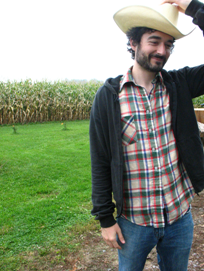 About our Lab

The Lajeunesse Lab focuses on studies in parasitism, herbivory, and research synthesis. We use traditional experimental and statistical techniques combined with research synthesis approaches [

] to study the natural diversity of parasites/herbivores and forces creating and sustaining this diversity.
MARC J. LAJEUNESSE, ASST. PROF.
DEPARTMENT OF INTEGRATIVE BIOLOGY


Lab news

---
Wednesday, January 5, 2012
Our new postdoc Heather Jezorek joins the lab!

Wednesday, October 15, 2011
Our response ratio paper hits the November 2011 issue of [Ecology

]! What a fast turnaround!

Thursday, September 22, 2011
Our lab hosts [David Reed

] for an IB departmental seminar.

scroll down for more news...

Monday, August 22, 2011
Ph.D. student Patrick Stanley joins our lab! Here's a [document

] sketching how to proceed, Patrick. No sweat, right!? ;-)

Monday, June 20, 2011
Marc gives a talk at Evolution 2011 in Norman, Oklahoma. [

]

Thursday, May 12, 2011
A new version of phyloMeta is now available, see [

].

Monday, March 28, 2011
Marc gives a departmental seminar at Rice University (Houston, Texas). [

]

Monday, February 14, 2011
Postdoc position available. Download

for details, and apply [here

]. UPDATE (position has been filled :-) 10/25/2011)

Ph.D. and M.S. positions also available. See [Letter to prospective students

].

Monday, February 13, 2011
Labbie Jason Richardson is awarded a research grant from the USF Office of Undergraduate Research! Congrats buddy!

Monday, December 6, 2010
Updated phyloMeta, see [

].

Monday, August 22, 2010
First day at USF!